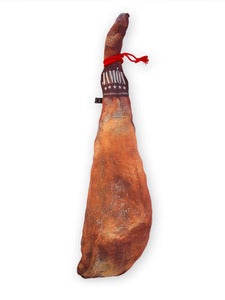 €

16.90
Cojín en forma de jamón, tamaño real.
Un concepto auténtico y ligero que no mancha, no engorda y no causa problemas en aduanas.
Exterior 100% algodón
Relleno de fibra de poliéster
Se nos han agotado los jamones y estamos en nuevo proceso de producción. Avisaremos cuando tengamos nueva disponibilidad.
Si durante este período quieres comprar nuestros jamones, puedes dirigirte a las siguientes tiendas:
Curiosité
Que lo vendan
SV Original
Estamos agradecidísimos con todos vosotros.
/
Ham pillow, real size.
Authentic and light, it is stain-free, low-cal and will go smoothly through customs.
Exterior 100% cotton
Stuffed with polyester fiber
We've run out of hams and are preparing a new production lot. We will let know when they become available again.
If during this period you're interested in purchasing our hams, you can go to the following stores:
Curiosité
Que lo vendan
SV Original
We are grateful to everyone of you.